History
With over 30 years experience built on trust and honest endeavour and 75 members of staff PMcK are your first choice.
The business was established in 1984 by Paul Mc Kearney, when he took a brave step to form his own electrical contracting firm, in what were very uncertain times. Initially run as a small family business along with his wife Frances, he concentrated on domestic and small industrial installations. His reputation started to grow and after a lot of hard work and determination, the business started to grow.
Peter Mc Kearney joined the business in 2002, making the business a family affair, and the mixture on youthful innovation and hard won experience meant the business started to flourish. PMcK have a long established list of key suppliers and specialist sub contractors that have been developed over 30 years that is built on trust and honest endeavour.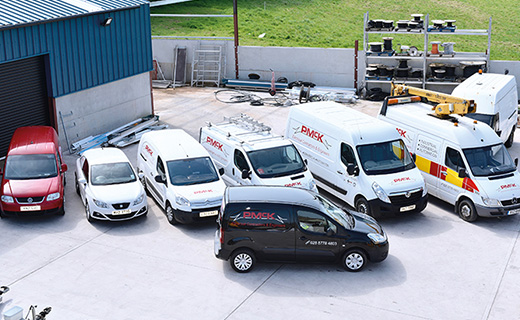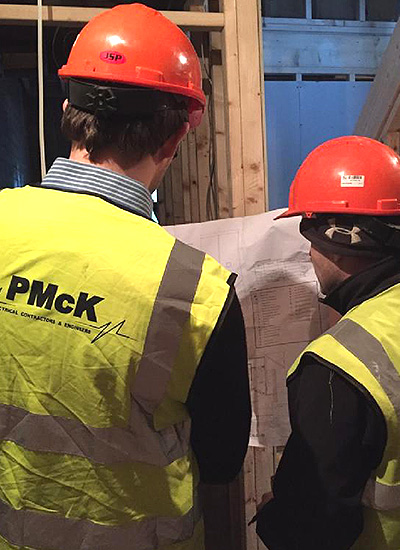 This formidable team combined with a quality team of electricians and Engineers, Estimators and support staff led PMcK to win major contracts in Educational, Industrial and Commercial projects.
The hard work, determination and passion for electrical engineering forged 30 years ago is a cornerstone of the drive and ambition displayed by the company at all levels. Designing, installing and completing projects to meet today's rigorous standards of excellence demands the depth of experience that can only be gained over time and through managing a wide diversity of projects.
That is why customers throughout the UK and Ireland turn to us. Over the years we have built a dedicated team with experience in all Electrical services, enabling us to take contracts from design through to completion. As part of our tailored solution, we can also offer 24/7, 365 days a year responsive and planned maintenance. Our envied reputation has been built on our commitment to deliver innovative, cost effective engineering solutions to our clients on each and every project.
We are a progressive company, constantly seeking new ways to stay at the forefront of innovative engineering trends. Fusing this innovation with traditional skills, we seek to exceed client expectations in delivering their vision on time and within budget on each and every project.
PMcK Ltd—Electrical Contractors & Engineers are a leading electrical engineering & building services engineering contractor based in N.Ireland operating throughout the United Kingdom and Ireland. A family run and operated company we pride ourselves in being able to offer and deliver a total service and our operating ethos is founded upon collaboration, ownership and delivery.
Our range of expertise covers the full range of electrical services from inception to completion and a large part of what we do is finding ways to deliver complicated services in the most uncomplicated fashion.
Over 35 years of experience has gave PMcK the understanding of the extent to which buildings rely upon robust electrical services. From crucial life safety systems, through to communications systems and controls, we have the people and the skills to deliver certainty and quality. Employing over 75 staff, we have an outstanding reputation for the delivery of design, manufacture, installation and commissioning Electrical engineering services, On Time and On Budget.
Our customers include both public sector and private customers across the whole spectrum of industry, commerce, education, health, retail and leisure sectors.
As a family owned Company, we are proud of our tradition of employing, developing and retaining apprentices and some of our very best people joined the business through this route. We see our regular annual intake of apprentices as our investment in the longevity of the Company. Our approach is driven by our core values and our key attributes are the people who work in the business. Like every business, we have the necessary systems, processes and procedures, but we like to think that these are also geared towards empowering our people to deliver solutions which best meet the needs of our customers.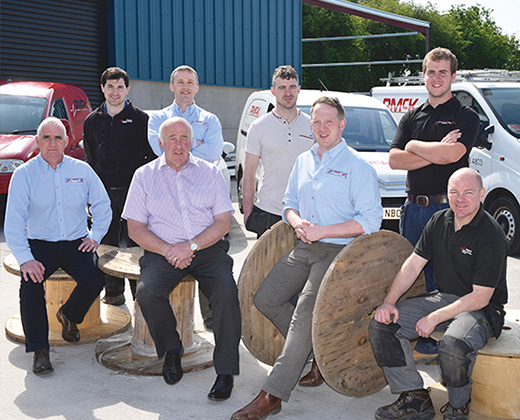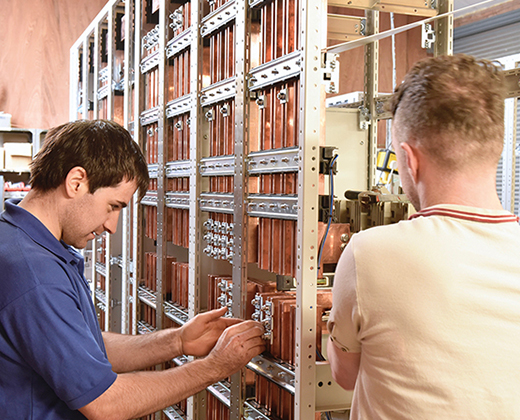 "We believe that safety, reliability and flexibility should be reflected in how we approach our work."
Honesty
•
Excellence
•
Safety & Responsibility
•
Collaboration
3+ Years Experience
We aim to be the Electrical Contractor of choice through our performance and strong experience on delivering electrical engineering solutions.
Excellent Communications
We seek the earliest possible involvement in our projects, thereby ensuring relationship and communication lines are firmly established for successful competition and handover to our clients.
Latest Technologies
We continuously evaluate new products, technologies and innovations to explore every opportunity to bring value to our clients.
Switched On
We are agile in our approach to business and consistently outperform our competitors while delivering exceptional value and quality.
Exceptional Staff
We aim to be the Electrical Contractor of choice through our performance and strong experience on delivering electrical engineering solutions.
Non-Adversarial Approach
We have a non-adversarial approach to our day to day business.
Going the Extra Mile
Our senior management team go that 'extra mile' ensure the successful delivery of our clients' projects.business ensuring we have a strong and experienced workforce that gives us exceptional self delivery capability.
Our People
Our strongest asset.